Are You Building Modern Brands? Or just another Conventional Brand?
According to Edward Leaman – Instructor at Stanford University, Building Modern Brands you are making a promise, delivered and measured. It takes passion, energy and emotion to create a successful brand.
In this article, you'll learn:
The path to create a brand
How to turn ideas into reality
Brand versus the logo
Creating a successful brand
So, Where do I start?
How to judge a brand?
The Path to Create a Brand
The journey to create a new brand boils down to these three essential questions:
What is happening right now?
So what?
Now what?
Take a note and answer it. Soon enough, you'll have an sketch with lots of ideas for your business. But wait… This is just the beginning of how do you turn ideas into reality.
How To Turn Ideas Into Reality
"Shouldn't we look to our product and services and try to create the same level of emotion as art does?", asks Edward Leaman in our course about branding.
When we talk about art and the branding process, is common remind of Steve Jobs. Apple is one of the best global brands, not only because it brought us the unexpected, but also showed how innovation, usability and great designs can fit together in a product.
Jobs once said "our customers want to know who is Apple and what is it that we stand for in this world". So, if you're making a brand or already have one, ask yourself:
"What do I stand for?";
"Why do I exist?"
"What is my visionary promise?"
The mission and vision of a company can be made after answering these questions – at least the first sketch of it. The most questions you made, the more inspiration and ideas you bring to the process of creating a successful business.
Brand versus The Logo
What is a logo, according to Google?
A logo represents the identity and values a brand has. Anually, Interbrand does a ranking with the Best Global Brands. In 2019, these were the top 16 in the market:
If we look into History, all of these brands has done a lot of experiments and changes since its creation. Take for an example the logo of Apple over the years: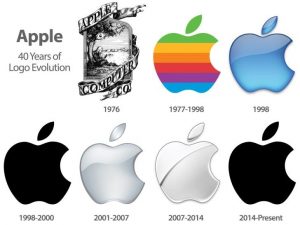 Now, the changes made in Amazon's mission statement since 1995:
Before: our mission is to be Earth's most customer-centric company, where customers can find and discover anything they might want to buy online, and endeavors to offer its customers the lowest possible prices.
Now: our mission is to serve consumers through online and physical stores and focus on selection, price, and convenience
As you can see, the moves made by these companies were improved with time, but they never changed too drastically. It is therefore important to know that a modern brand requires unit, consistency and pace. 
You may also notice the pursuit of a successful brand is continuous and involves more than just an name or even the logo. Includes planning the mission, vision, typography, palette, besides other items. However, before we go any further with these topics, let's enter in the world of building brands.
Creating a Modern Brand
There are a lot of products and services being offered every day, and it's not easy to be an unique company, contrasting between many others. This kind of "uniqueness" could require years, considering that it takes time to fit your product in the market and also to understand your audience.
But don't panic! Every CEO needs to handle with this situation and there are no perfect companies. A successful business needs some investiments with strategic planning, employees, technology, marketing, among other things.
And the process to create a successful business requires a lot of research – after all, a brand is not only the logo, but the mix of:
Identity;
Values;
Design;
Analytics;
Customers you have.
So, where do I start to Building Modern Brands?
The professional responsible for creating a brand – also known as an Artist of Ideas, according to Leaman – does a lot of experiments before definitive choices been made. Here are 4 basic steps for a branding process:
1 – Research your market, costumers and competitors: basically, you have to do a competitive benchmark of your niche, collecting data and making sure you know what your audience:
is into;
don't like ;
would consume now.
In this first step, is important to dive into statistical studies and financial statements about other companies, to collect relevant data and compare it in your niche. Later, surveys, online forms and focus groups can be applied to validate your products.
2 – Choose a name and slogan that could relationate with your business:
3 – Choose a palette and typography for your brand (to be used in social media, marketing campaigns, etc).
4 – Start to think about a logo that expresses the values you're brand stand for.
Done? Well, remember these are basic steps that must be reviewed continually. Don't forget to get in touch with an Designer or Strategic Advisors if you need help in the process to create or repoisitioning a brand.
How do we judge a brand
Once you take notes, did researchs about the crowed market out there, its competitors, and all variables that involves a brand, you can judge how your creation is being received.
You can judge a brand by:
A Product – the style of the product, trend, value, quality, price, regionality, seasonality and merchandising.
The Customer Experience – what people think about buying products (or asking for services) in your company?
If you're an enterpreneur, don't forget to think in these questions:
Who are the customers you have today and who will they be tomorrow?
Who are the competitors you have today and who will they be tomorrow?
What are the competencies we have today and will they be suficiente tomorrow?
Communication – content strategy, digital strategies, conversions and influences online/offline.
Brand – customers are having negative or positive relationships with the brand?
Edward Leaman says that love is powerful when it comes to brands: "It's all about standing in love with your employees, customers and business". Once people loves your brand, they'll share it to the world – but at the same time, expectations are created, and the reviews about it can be negative or positive.
Increased Expectation – watch out! If you're proposing something, is important to act and make it happen. Customers don't like to be disapointed, they want an extraordinary experiency, as you can see below:
If you liked this post and want to know more about branding, watch for Free a Course how to create Successful brand.